With the site cleared, the drilling teams from Direct Energy and Terra Test arrive, ready to begin the first geothermal drill. This is the first stage in the installation process of the heating and cooling system designed by Direct Energy.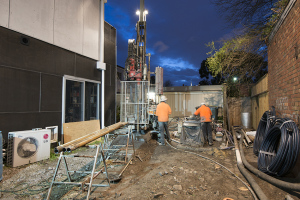 Grand Designs stood by to film the first steps in the process, and the first 45 meters of the drill went easily and without a hitch. But we did well not to count our chickens, because the next 20 meters got progressively harder and slower. We hit granite rock, which meant a different, slower, heavy-duty drill bit.
With the slower pace, the first hole took the better parts of two days, the second day ending with the installation of the grand loop pipe, a flush out with water and then finished off with grout to fill in the remaining space.
Day three of the geothermal drill pleasantly surprised everyone on site. Within just four hours the second hole was drilled to the required depth of 65 meters, without grinding through any granite. The following day the grand loop pipe was installed and finished with grout.